About us
---
Mandelbaum House is the University of Sydney's newest (opened in 1996), smallest (38 students) and only kosher residential college. We welcome women and men from anywhere in the world (including Australia!) regardless of religion or nationality.
We host lectures and seminars given by prominent scholars and members of the Jewish and university communities. Throughout the academic year, visiting scholars from various disciplines stay in our guest apartment.
We also provide short-stay accommodation for students and other visitors, especially during the long summer break.
History
---
Rachel Mandelbaum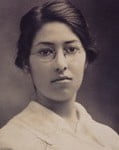 'Mandelbaum' means 'almond tree'. It's also the family name of our founder.
Rachel Mandelbaum (later Lipton) graduated from the University of Sydney in 1918. She then taught Latin and English and received her MA in Latin from the University of Sydney in 1934.
Mrs Lipton died in 1978, bequeathing her estate to build a college at the University of Sydney in memory of her parents, the Reverend Zalel and Freda Mandelbaum, who had provided spiritual leadership to a number of Australian congregations over many decades. Her second husband, Mr Harry Lipton, subsequently bequeathed his estate to the college as well. Mandelbaum House opened in 1996 with accommodation for 30 residents from all over the world.
Rachel Mandelbaum was a remarkable woman, particularly for her time — an articulate, independent non-conformist who valued education and scholarship.
We're proud to continue her legacy.
A welcoming and warm place immersed in cultural diversity,
great memories and friends for life!
Audrey, New Caledonia
It is wonderful to have a spacious and fully furnished bedroom
to which I can retreat to after a busy day of classes!
Julio, Colombia
I love that I always have a healthy option
at every meal that is also delicious!
Rebecca, USA
When you go to uni with 60,000 people,
it's nice to come back to a family of 40 at the end of the day.
Michael, Australia
Mandelbaum House has been the most diverse,
welcoming, active society I have ever been involved in.
Alex, USA